THE UNBECOMING OF MARA DYER BY MICHELLE HODKIN
My rating: ☆☆☆☆☆
Read review | Purchase: Amazon, Bookdepository
Mara Dyer doesn't think life can get any stranger than waking up in a hospital with no memory of how she got there. It can. She believes there must be more to the accident she can't remember that killed her friends and left her mysteriously unharmed. There is. She doesn't believe that after everything she's been through, she can fall in love. She's wrong.
HOLLYWOOD DIRT BY ALESSANDRA TORRE
My rating: ☆☆☆
Purchase: Amazon
Cole Masten. Abandoned by his superstar wife, Hollywood's Perfect Husband is now Hollywood's Sexiest Bachelor: partying hard and screwing even harder. Watch out Los Angeles, there's a new bad boy in town. Summer Jenkins. That's me, a small town girl stuck in Quincy, Georgia. I cook some mean chicken and dumplins, can bluff a grown man out of his savings in poker, and was voted Most Friendly my senior year. We were from different worlds. Our lives shouldn't have collided. But then Cole Masten read a book about my small town. And six months later, his jet landed on our dusty airstrip, and he brought Hollywood with him. From the start, I knew he was trouble. For our town. And for me. Sometimes, opposites just aren't meant to attract.
OVERRULED BY EMMA CHASE
My rating: ☆☆
Read review | Purchase: Amazon
As a DC defense attorney, Stanton Shaw keeps his head cool, his questions sharp, and his arguments irrefutable. They don't call him the Jury Charmer for nothing – with his southern drawl, disarming smile and captivating green eyes – he's a hard man to say no to. Men want to be him and women want to be thoroughly cross examined by him. Stanton's a man with a plan. And for a while, life was going according to that plan. Until the day he receives an invitation to the wedding of his high school sweetheart and mother of his beloved ten-year old daughter. Jenny is getting married — to someone who isn't him. That's definitely not part of the plan.
Sofia Santos is a city raised, no-nonsense litigator who plans to become the most revered criminal defense attorney in the country. She doesn't have time for relationships or distractions. But when Stanton, her "friend with mind-blowing benefits" begs for help, she finds herself out of her element, out of her depth, and obviously out of her mind. Because she agrees to go with him – to The-Middle-Of-Nowhere, Mississippi – to do all she can to help Stanton win back the woman he loves. Her head tells her she's crazy…and her heart says something else entirely.
AGAINST ALL ODDS BY PATRICIA VANASSE
My rating: ☆☆☆☆
Read review
Sometimes boy meets girl, and the stars align, and their future is laid out neatly before them. Together forever. Meant to be. But Max and Loren are not one of those couples. Seventeen-year-old Max DuPont is on the verge of becoming a ward of the state and foster kid. Contrary to expectations, Max is not from the "wrong" side of town. He's from a good home in a nice neighborhood, but his mother left after his father lost his job and turned to drinking. Max has been struggling to keep his head above water ever since. All he wants is to survive his senior year, play hockey, and move on to college. When his dad lands himself in jail, Max has no choice but to accept an offer to live with his father's do-gooder attorney, Mr. Larssi. The only contingency is that Max must stay far away from Larssi's beautiful teenage daughter Loren. Loren is aware that she's had every opportunity in her young adult life—at least, that is, every opportunity her parents designed for her. She excels in academics at a competitive prep school, she never parties, she never dates, and she's a budding ballerina and major hopeful for a Juilliard scholarship. But since her best friend Lily died tragically three months ago, Loren is lost. She knows just how precious life is. But she has no idea how to make the best of it. How can she live—really live—with obsessive parents breathing down her neck…and inviting the only guy who never noticed her to live right under their roof?
Loren's first step in living her own life might be to get Max to notice her. Max's only chance at a solid future without foster care is to keep his distance from Loren. But their chemistry is undeniable. And they can't fight the odds forever…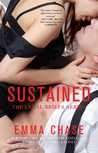 SUSTAINED BY EMMA CHASE
My rating: ☆☆☆☆☆
Purchase: Amazon
When you're a defense attorney in Washington, DC, you see firsthand how hard life can be, and that sometimes the only way to survive is to be harder. I, Jake Becker, have a reputation for being cold, callous, and intimidating—and that suits me just fine. In fact, it's necessary when I'm breaking down a witness on the stand. Complications don't work for me—I'm a "need-to-know" type of man. If you're my client, tell me the basic facts. If you're my date, stick to what will turn you on. I'm not a therapist or Prince Charming—and I don't pretend to be. Then Chelsea McQuaid and her six orphaned nieces and nephews came along and complicated the ever-loving hell out of my life. Now I'm going to Mommy & Me classes, One Direction concerts, the emergency room, and arguing cases in the principal's office. Chelsea's too sweet, too innocent, and too gorgeous for her own good. She tries to be tough, but she's not. She needs someone to help her, defend her…and the kids. And that — that, I know how to do.